Testimonials
I have been using a Flygrip since 2013. I had my hand amputated due to a car crash in 2011 and struggled with juggling a phone and everything else.. I ordered two and have moved these from device to device. What a useful item, I can't imagine using a phone without it. I know that it has saved me the cost of a new phone many times over because it is almost impossible to drop your phone when using the Flygrip. Thank you for a great product.

Angie G., Delray Beach, FL
I'm CONVINCED!!! This is buy far one of the best accessories I've bought for any smartphone I've ever had. Since installation I have not dropped my phone once. The case that was included surprised me. I was not expecting such a high quality case with my purchase. I'm a customer for life. Thanks for such a great product.

Vince. M, Oak Park, IL
I have an iphone 6. I have loved my Bethany flygrip for the last 1 1/2 years and get comments about it all the time! I'm a 51 year old woman and surprised that more people don't know about them. I can't imagine my phone without one! I have removed it and put it back on at least once with great results. Thank you!

Nancy T., Virginia Beach, VA
How it started
The idea.
Touchscreen smartphones became popular in 2007. At the time, Blackberry and Palm had phones with physical keyboards on the front. A keyboard on the front allowed the hand and thumb to hold the phone securely, because your thumb could rest on the keyboard. Once the full touchscreen phones came out, you were could not allow your thumb to rest on the front of the screen, otherwise it would cause mis-clicks. You were forced to hold only the sides of the phone, and then use the other hand's fingers to operate the touchscreen front. This was not a very productive way to use a phone. My goal was to be able to use these touchscreen phones with just one hand.
The idea was simple. Create a method or apparatus that allows you to "grip/hold" your phone securely using your "non thumb fingers" from the back, and let your thumb have the freedom to operate the front of the screen.
After many ideas and prototypes, I felt the Flygrip version was the one I would start with. That version had the criteria I was looking for:
1. It needed to be pocketable. SO the grip needed to be as thin as possible...but it must expand when in use, and collapse when stored away.

2. It needed to be comfortable. Your hand and fingers need to be in a natural position.

3. Your thumb needs freedom to operate the touchscreen.

4. The whole process of expanding and collapsing needed to be fast and easy. It needed to feel like second nature. I felt if it was cuumbersome, it would required extra time, slow me down and that was unacceptable.
Flygrip has evolved over the years. Improving as the years went on. I appreciate all of the customers with their help, support, and encouragement.
This has been an incredible journey and the product speaks for itself. Flygrip is the first of it's kind, the most comfortable, the best ergonomics and the most versatile grip on the market.
Thank you all.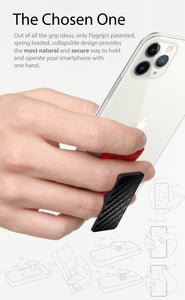 Risk Free 60 Day Money Back Guarantee